NCARC currently maintains and operates 8 repeaters. These repeaters are kept operational through the guidance of the Technical Committee Chair and club members. The repeaters are located in four different locations.  Take a look at the other repeaters in the area. Other Repeaters
Repeater Frequencies
Frequency
Offset
 CTCSSTone
(in / out)
Call / Location
Equipment
  2 Meter
 
144.390
 
Horsetooth Mtn.
TinyTrak4/Alinco DR1200 / APRX iGate/Digi
145.115 -
100.0/100.0
Horsetooth Mtn.
Kenwood TKR-750 repeater, RTCM/Asterisk Controller,        100W amplifier
Repeater Coverage Map
146.850 -
100.0/100.0
UNC Campus – Greeley
Kenwood TKR-750 repeater 25 watt, RTCM/Asterisk Controller
Repeater Coverage Map
146.625 -
100.0/100.0
Buckhorn Mtn.
Kenwood TKR-750 repeater 25 Watt, RTCM/Asterisk Controller
Repeater Coverage Map
  1.25 Meter
 
224.520 -
100.0/100.0
Horsetooth Mtn.
BridgeCom BCR-220 repeater,      100 Watt Amplifier
Repeater Coverage Map
  70 Centimeter
 
447.275 -

100.0/100.0

Horsetooth Mtn.

Kenwood TKR-850 repeater,        RTCM/Asterisk Controller            100 watt amplifier,                  ARES R3D2  EchoLink
Repeater Coverage Map

Linked to 447.750 repeater on Lee Hill courtesy of RMHam

447.700 -
100.0/100.0
Buckhorn Mtn.
             Kenwood TKR-850,                     100 watt Amplifier,       RTCM/Asterisk Controller
448.025 -
100.0/100.0
Budweiser Event Center
Yaesu DR-1X Fusion repeater         30 watt, Auto sense between Analog and C4FM
Repeater Coverage Map
ECHOLINK
Echolink is now operational on the 447.275 repeater.  There are a couple of special codes for connecting over the air from this repeater to another echolink node.
To connect to a remote node:  *3<nodenumber>
To disconnect from a connected remote node: *1<nodenumber)
You *MUST* always use a 6 digit node number!!  If the node number is shorter than 6 digits,  you must add leading zeros to the make the node number 6 digits.
For example:
To connect to node 12345,. you would enter: *3012345
To connect to node 1234. you would enter: *3001234
Disconnecting works the same way:
*1012345 would disconnect from node 12345
*1001234 would disconnect from node 1234
Repeater Locations
Here is a map of the locations of our repeaters.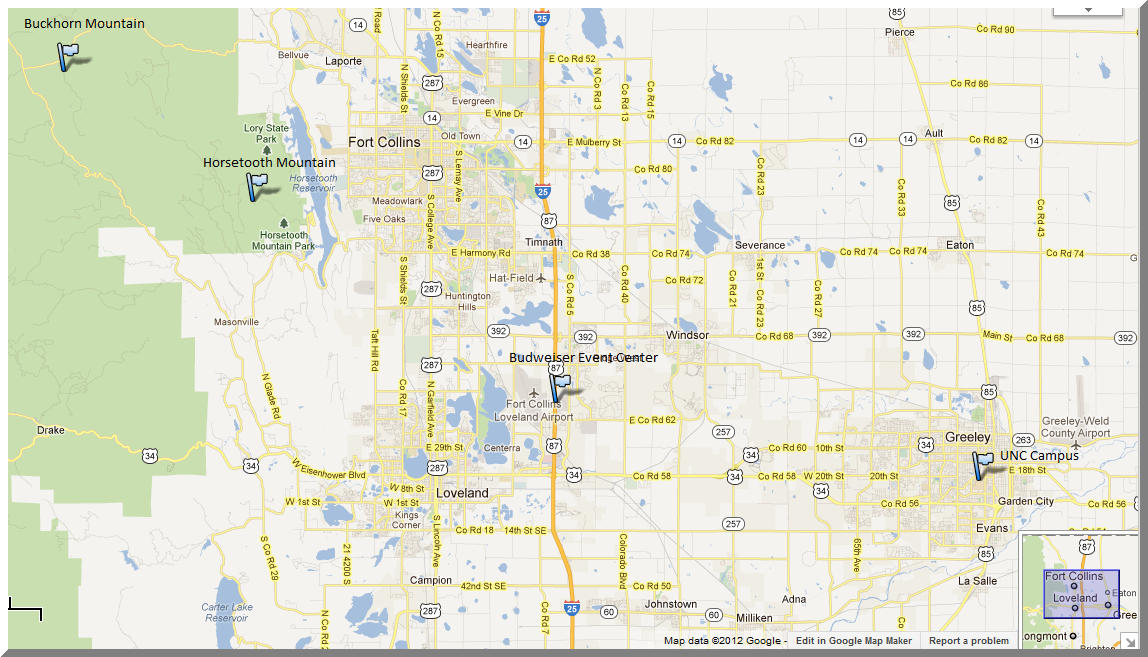 View NCARC Repeaters in a larger map
Horsetooth Mountain - West of Fort Collins
7300' Elevation
145.115-, 224.520-, 447.275-, 144.390 APRS Simplex
Located: 40.5491, -105.1975
Buckhorn Mountain  - North West of Fort Collins
8300' elevation
146.625-, 224.840-, 447.700-
Located: 40.6169, -105.3274
UNC Campus - Greeley
Located: 40.4034, -104.6992
Budweiser Event Center
East of I-25 / exit 259
Located:40.4442, -104.9895
Data Network